Can you explain what it is?
PixScan takes a photo or scanned image of a physical mat and places it on the virtual mat in exactly the right size, orientation and position. To do this, you need a specially marked PixScan mat and a software module that is built into Silhouette Studio v3.1 and higher. You put your image or item on the physical PixScan mat, snap a photo or scan it, and, once imported into Silhouette Studio, the PixScan technology resizes it, corrects for angles (camera) or stitches it together (scan). From there you can trace or otherwise place cut lines for precise cutting, drawing or designing. The example shown below uses a simulated mat since I do not have one yet. Pretty impressive.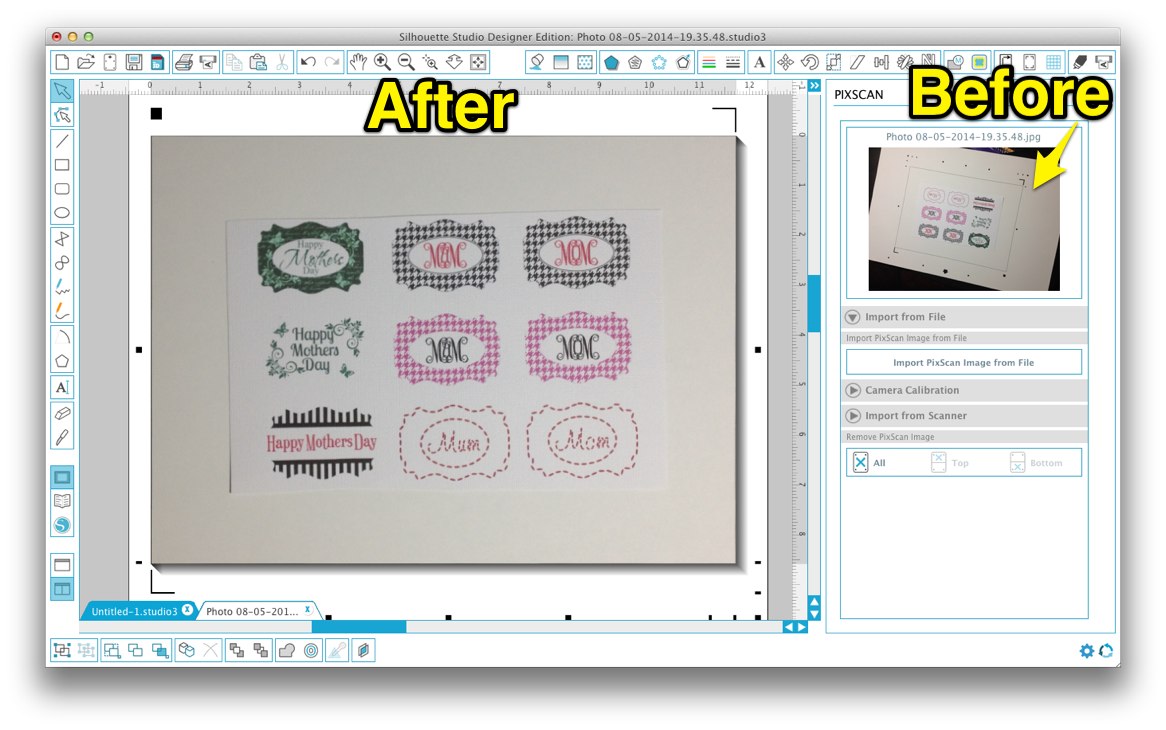 What is it good for?
PixScan is for cutting out preprinted images that can't be printed from Silhouette Studio with registration marks for standard Print and Cut. In other words, PixScan is for when you can't print the marks on the same page you want to cut out of. Examples would be cutting out images from wrapping paper, greeting cards, decoupage sheets, or cutting out images you have stamped and even embossed.
You can also use it to cut from precut sheets, so, for instance, adding borders to or cutting out shaped windows from precut cards. You can also use it to position cuts with respect to the particular pattern on a page, or to cut from oddly shaped scraps. If you need to hit a small target with precision … like when engraving on a small blank or writing on a small tag … PixScan is ideal.
As you probably already know, certain media don't lend themselves to printing and/or reading registration marks on. Black paper, for instance, or transparency film or foil or any of the media that Silhouette machines have trouble reading the marks from can be put on a PixScan mat instead. Potentially big benefit here.
We can even combine standard print and cut with PixScan cuts. For instance, print and cut a page of shaped tags or bookmarks, laminate them, then use PixScan to cut around them with a margin so that the laminated edges stay sealed.
Another application would be for designing things at true size, when the original might not be convenient to scan. If you have a gasket to replace, for instance, use PixScan to help you design a new one for an exact fit. Similarly, you could design a cut file to perfectly match an acrylic keychain shape.
Many high end users have issues with the print colors out of Silhouette Studio and prefer to print from Photoshop, etc. That is another good use for PixScan.
Finally, PixScan gives you a way to print and cut a full 8-1/2 x 11 page (Cameo only) instead of having to leave room for registration marks as you do now.
Do I have to update to V3?
Yes, you have to update to V3.1.417 or higher to use the PixScan technology. You can get the update here.
Do I need separate PixScan software?
No, PixScan is built into Silhouette Studio V3.1.417 and higher.
Which machines will this work with?
The Silhouette Cameo and the Silhouette Portrait. The Cameo will only work with the PixScan Cameo mat and the Portrait will only work with the PixScan Portrait mat.
How much does PixScan cost?
The software update is free. All you need to buy is a PixScan mat, which retails for $14.99USD, the same prices as a standard Cameo mat. You will not want to use PixScan mats exclusively though, because the cutting area is smaller than a standard mat.
Do I need Designer Edition?
No.
Do I have to have a smartphone?
No, all you need is a camera or a scanner.
Do I need a special app?
No, the PixScan technology does the photo processing.
Do I have to have a scanner?
No, you can use a camera.
What if my scanner doesn't work with Silhouette Studio?
You can use any camera.
How do I get my photos from the camera/phone to the computer?
That will depend on your camera/phone or computer. Check online help sources for the most convenient methods for you.
How is this different from just scanning?
When you scan, assuming you save as jpg, you have the image at the right size; but with PixScan you also have it at the right position and orientation on your virtual mat for cutting.
How is this different from Print and Cut?
With Print and Cut, you start by printing your design, along with registration marks, on a blank, uncut sheet of paper. With PixScan, the material you will be cutting is already printed and/or your page is already cut. Both processes rely on having the cutlines in the same relative position to the registration marks on the physical mat as they are on the virtual mat. In Print and Cut this is accomplished simply by printing the marks on the page from within the software. With PixScan, the marks are fixed on the mat itself, and the software interprets the photo or scan you input to determine the correct relative position of the cut lines.
Is this better than Print and Cut?
This is not better or worse than Print and Cut, it simply extends Print and Cut to cover new uses that aren't practical now.
Can I use this instead of the old Print and Cut?
You can, but there won't usually be an advantage in doing that, and there may be some disadvantages. For instance, in standard Print and Cut, you may already have a cut line, whereas with PixScan you have to create one. (You can combine the two methods, of course, but that adds to the complexity).
Do I still have to trace?
Yes, you still have to trace to get the cutlines. If you need to brush up on tracing, make sure and check out my Tracing without Tears video series.
This video specifically about tracing stamped images may also be helpful
How did they get the cut line for the bicycle in the promo video?
In my opinion, that cut line was manually drawn. There is no line in the original to trace and no software that I know of can trace an imaginary line.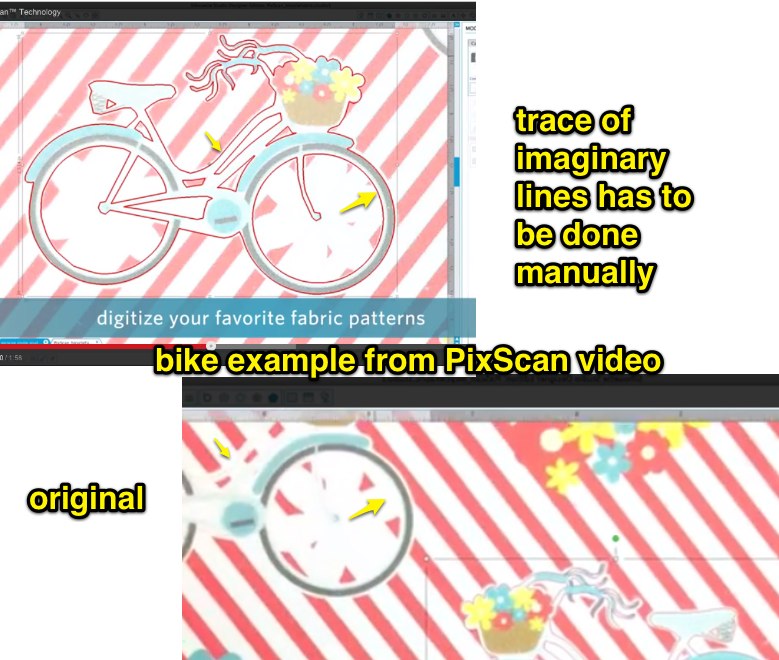 Can I use it with an SD?
Sorry, no, the SD uses different registration marks and there is no mat or programming to support it.
Do I have to calibrate my camera/phone?
If you are not using one of the smartphones/tablets that has calibration data already built in (see list below) to Silhouette Studio you will need to do a one time calibration of your camera. It involves printing a test page, photographing it and importing it into Silhouette Studio. Complete instructions can be found on page 35 of the manual (find the manual under the Help menu in Silhouette Studio). I recommend you visit this blog post from Debbie where she shows you exactly what a successful calibration photo looks like.
What smartphones/tablets are supported without calibration?
Kindle Fire HDX
Apple iPad mini
Apple iPhone 4s
Apple iPhone 5c
Apple iPhone 5s
HTC Desire 300
HTC EVOV 4G
Nokia Lumia 520
Panasonic DMC-TZ55
Samsung GT-P3113
Samsung SM-T230
Samsung SPH-L720
Samsung WB250F, WB251F, WB252F
Sony C6603
update: additional cameras/phones have been added with updates so do not calibrate unless you are prompted by the software to do so.
I can't update, are there alternatives?
Yes, for cutting and stamping here, for cutting from scraps here. There are also a number of smartphone/tablet scanner apps such as Genius Scan and Turbo Scan that can correct photos for more accurate tracing.
A good video that shows the PixScan process
Update: More Info on Pixscan
(Visited 2,452 times, 1 visits today)