Many are frustrated with the size limitations on Cricut Design Space and want to know how to do full page print then cuts or even 12 x 24 print then cuts. Fortunately, before Cricut officially supported "print then cut" at all, we were doing print and cut with our Cricut Expressions. Many of the techniques we used or developed then can be used to work around the limits of the Explore's Print then Cut today. After seeing so many questions about this, as well as new attempts that are more complex and less accurate than they need to be, I put together a list of some tried and true approaches, along with the pros and cons of each.
Standard Cricut Design Space Print then Cut
Description: Print your design from Cricut Design Space with sensor marks, place on mat and cut
Tutorials:
Cricut.com Print then Cut info
Print Then Cut Basics – Official Cricut Youtube
Print Then Cut Advanced – Official Cricut Youtube
Pros: Easy and accurate
Cons: Limited design size (6.75 x 9.25″), workarounds needed if paper is not matte white, buggy especially with multiple images. Print quality is limited to 300 dpi for the web app, unlimited for the iOS app.
My cut file for sensor mark masks (workaround for colored paper) shared here (obsolete)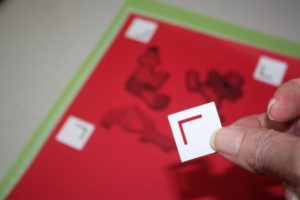 Update: Design Space 3 has changed the sensor mark configuration rendering my masks obsolete, but Mary Ann Penn has adapted this idea for the new DS3 marks and has graciously allowed me to post her Print Then Cut on Colors DS file link and instructions here. Thanks, Mary Ann!
Another Update: Renae Rhodes also has a similar file here.
or if your design is forgiving, here's another method
Tip: If your paper (or laser toner) is too glossy, close the lid to cut the glare. If that doesn't work, place matte clear tape (like Scotch Magic Tape for wrapping packages) over the marks. You may even be able to find it in removable adhesive to that you can reuse it.
SnapMat Method
Description: Place your image on the mat, send file to cut, take a photo with the SnapMat function, position cut lines over SnapMat image.
Tutorials:
How to get a true size cut file in DS3
How to get a cut file for a stamped image
Pros: works with preprinted designs
Cons: Requires an iOS device, not as accurate as other methods (does not account for mat loading differences), can be finicky
Piggyback or Carrier Method
Description: Cut your shape first and affix it over a draft printout for position, then print again.
Tutorials:
Excerpt from my 1998 book (washi tape or other removable tape can be used in the 21st century)
Pros: works with any design, relatively accurate
Cons: need a window or light box to line it up, possibility of a printer jam if cutouts are not well secured
Hinge or Draft Cut Method
Description: Cut the file once on a test sheet that is fixed in position along one side, then slide your printout under it to determine correct position, fold the test sheet out of the way and cut again
Tutorials:
Hinge method with Design Space
How to get a true size cut file in DS3
Pros: works with preprinted designs, relatively accurate
Cons: more labor intensive than other methods, a little awkward
Template Method
Description: Use a special template in another program so that the printed design lines up easily with the Design Space cut when the paper is loaded normally on the mat.
Tutorials:
Print from Outside, Cut with Design Space – CleverSomeday
My free letter size "magic templates" for Inkscape, MSWord, and Mac Pages are available here
A video that will help you design cut files to match a printed page in Design Space is here
Pros: good for large quantities
Cons: not as accurate as other methods (does not account for mat loading differences)
Printable Blanks Method
Description: Cut outs are secured to the sheet they are cut from by backing them with transfer tape so that they can be run through a printer. A custom template is created to match using any printing application
Tutorials:
Printable blanks – Clever Someday
Pros: good for designs where you will be doing many of the same cuts over time but with different printing or perhaps specialty applications like field customization
Cons: lots of work up front, not much experience behind this method
SaveSave
SaveSave
SaveSave
SaveSave
SaveSave
SaveSave
SaveSave
(Visited 6,400 times, 1 visits today)